OCT 1-31 | The Pin Show: Call for Designers
Event Navigation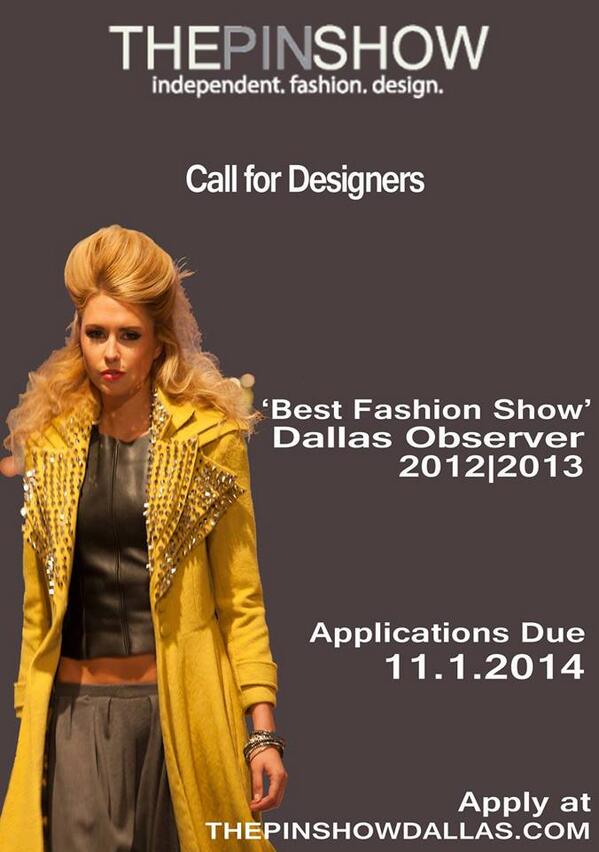 The Pin Show is Texas' Premier Event for the Independent Fashion Industry. Take this opportunity to showcase your Independent line on a runway before your target market, including industry buyers, reps, retailers & clientele. The Pin Show will produce the perfect environment to introduce your line for 2015. Designers will be hand selected by our committee of producers and fashion industry professionals.
The Pin Show is seeking independent designers in slow artisinal fashion, this indicates to us that you are either creating the product yourself or using local sew / design houses that pay an above average wage to produce your products. We are not seeking lines made overseas at this time. Designers must be producing in their local economies, so if you are based in Chicago, you need to be producing in Chicago in order to qualify. We are seeking both seasoned artisinal designers, as well as those who are just getting started.
This Year, The Pin Show is taking Independent Artisanal Fashion to the next level. Here are just a few things they are looking for:
Designers creating their own lines using in house or local contractors
Domestic Fair Wage working conditions
Exceptional Fit
Innovative Design
Quality Fabrics (mostly natural fibers!)
All forms of Fashion are sought, including accessories, shoes, handbags, jewelry, men's wear, evening, sportswear, etc.
All Accepted designers will produce 6-10 full looks for the runway show, these designs must be new for the 2015 Pin Show event.